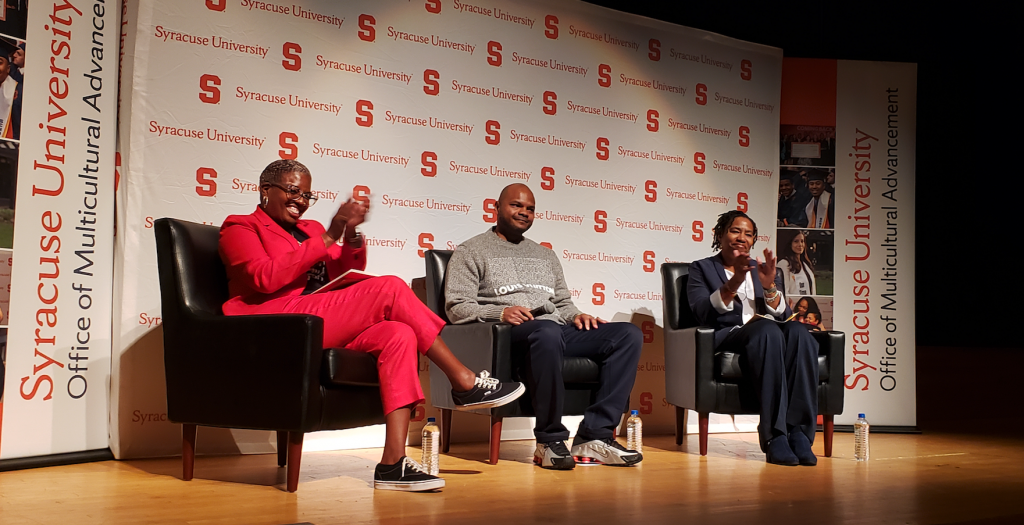 Kevin Richardson spent more than five years in a juvenile detention facility before he and the rest of the Central Park Five — Korey Wise, Antron McCray, Raymond Santana and Yusef Salaam — were exonerated in 2002 when the real perpetrator admitted to the crime. The Emmy-nominated Netflix miniseries "When They See Us" chronicles the boys' journey in what Richardson said was an authentic depiction. He called Ava DuVernay "an angel sent from above" for her work as director.
Professor Paula Johnson, a member of the DK Collective, joined Kevin Richardson and Candice Carnage in a panel on justice.
Richardson told Oprah Winfrey in an interview released in June that he'd dreamed of playing the trumpet in SU's marching band before he and four other boys were wrongfully convicted for the 1989 rape of a jogger in Central Park. At SU three decades later, he talked about his healing process and discussed justice in the United States. You can see a snipet of his dream being realized here.
Read more on this panel and Richardson's story in Daily Orange article here.