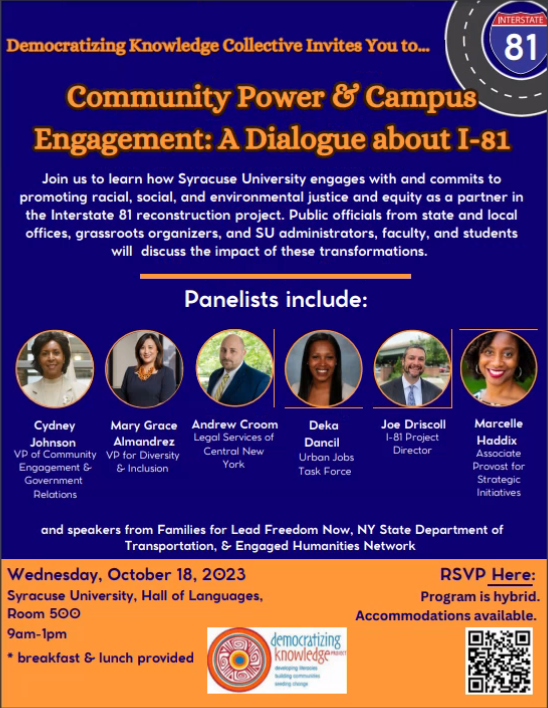 Community Power & Campus Engagement: A Dialogue about I-81
Location: Syracuse University Hall of Languages, Room 500 and Online
Date: Wednesday, October 18, 2023
Time: 9:00 am – 1:00 pm
Cost: The event is free and open to all
RSVP: https://forms.gle/MAs432bFAJMSaSR86
The program is hybrid
Accommodations are available
The Democratizing Knowledge Collective of Syracuse University invites you to "Community Power & Campus Engagement: A Dialogue about I-81." This program will provide information about the dismantling of Interstate-81 and the impact of these transformations on University and surrounding communities. As I-81 comes down, we will discuss concerns about the continuing effects of historical racial disparities, environmental impacts, and other economic and social justice issues. We will discuss what is the meaning of community engagement between Syracuse University and local communities, what does it mean to be a good neighbor, and how can we support community interests and needs. Panelists include public officials from state and local offices, grassroots organizers, and Syracuse University administrators, faculty, and students. They include:
Cydney Johnson, VP of Community Engagement & Government Relations
Andrew Croom, Esq., Legal Services of Central New York
Deka Dancil, President, Urban Jobs Task Force & Asst. Director of Field Organizing, NY Civil Liberties Union
Joe Driscoll, I-81 Project Director for the City of Syracuse
Marcelle Haddix, Associate Provost for Strategic Initiatives
Oceanna Fair, South Side Branch Leader, Families for Lead Freedom Now
Elizabeth Parmley, Project Director, I-81 Viaduct Project, NYS Dept. of Transportation
Brice Nordquist, Director Engaged Humanities, Dept. of Arts & Sciences
Mary Grace Almandrez, Vice President for Diversity and Inclusion at Syracuse University
Light food will be served.
Please join us for this informative and important dialogue.
~The Democratizing Knowledge Collective